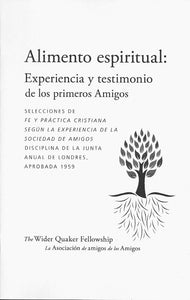 Comite Mundial de Consulta de los Amigos Seccion de las Americas
Alimento espiritual: Experiencia y testimonio de los primeros Amigos.
Regular price
$6.00
$0.00
Spiritual Food: Selections from Christian faith and practice in the experience of the Society of Friends, London YM 1959. Experiencia y testimonio de los primeros Amigos. Selecciones de Fe y practica cristiana segun la experiencia de la Sociedad de los Amigos; Disciplina de la Junta Anual de Londres, aprobada 1959. Muchas juntas anuales (asociacion regional o nacional de juntas mensuales o iglesia de los Amigos) elaboran una seleccion de textos originales provenientes de todos los momentos de la historia del cuaquerismo. En muchos casos todas concuerdan en la seleccion, sobre todo en el material fundacional. La combinacion de material historico, teologico y devocional se presta para la formacion de maestros y para discutir en grupos de estudio.
---
More from this collection