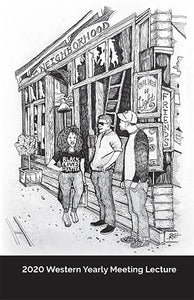 Friends United Press
2020 Vision: Children of Light in the Neighborhood
Regular price
$5.00
$0.00
"Be transformed" means to let something or someone change you. How many of us want or are even willing to be changed?  Probably most of us don't want to be transformed, especially if we don't know what we will be like then. As an individual, as a group of faithful Christians, as Western Yearly Meeting, we might rather be stuck in our familiarity. But if we are obedient, we are to put ourselves in a position to be guided by God into a new place, a fresh attitude, a different mindset. 
This Lecture was presented at Western Yearly Meeting summer sessions in July 2020 by Colin Saxton. The lecture and its accompanying study guide are meant to condition us for transformation. Western Yearly Meeting is at a junction where we have the opportunity to choose a direction that may be familiar or one that may feel risky. We have spent the past year listening to what aspects our members value enough to keep, what ways they think we could more effectively serve our people, and considering what role the Yearly Meeting should play in the development of our faith. We have begun the process of transformation into what God would have us be and do now, at this time and in our future. Please accept the challenge of studying these words, thoughts, ideas. Please accept the opportunity to share your own words, thoughts, ideas with your local meeting Friends. Then please let us know how you are led by the Light and Life in the Holy Spirit as we open ourselves for the transformation God has in store for us. 
We have invited Friends United Press to make this lecture and study guide available to anyone who might be curious or interested in the contents. So, whether you are in Western Yearly Meeting or not, may you be blessed with extra portions of wisdom, openness, energy, and inspiration during your study.  
Sylvia Graves, Della Stanley-Green, and Sue Whitesel
Co-superintendents of Western Yearly Meeting
Author: Colin Saxton
Pages: 50, pamphlet
Published: Friends United Press, 2020
Includes study guide

---
More from this collection