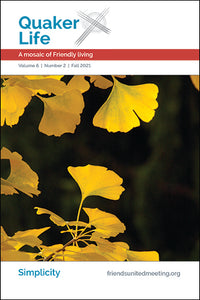 Friends United Meeting
Quaker Life, Simplicity, Fall 2021
Regular price
$10.00
$10.00
Purchase a single copy of the Fall 2021 issue of Quaker Life: A mosaic of Friendly living on the theme of Simplicity.
"It is our tender and Christian advice that Friends take care to keep to truth and plainness, in language, habit, deportment and behaviour; that the simplicity of truth in these things may not wear out nor be lost in our days, nor in our posterity's; and to avoid pride and immodesty in apparel, and all vain and superfluous fashions of the world."  — Yearly Meeting in London, 1691

Centuries ago, Friends were known for their plainness, in dress and speech and recreation. But even as Friends were creating a mold for what simplicity looked like, other Friends were warning that simplicity could never be reduced to an outward form, or a list of dos and don'ts. In 1700, Margaret Fell warned Friends that

We are now coming into that which Christ cried woe against, minding altogether outward things, neglecting the inward work of Almighty God in our hearts, if we can but frame according to outward prescriptions and orders . . . but Christ Jesus saith, that we must take no thought what we shall eat, or what we shall drink, or what we shall put on, but bids us consider the lilies how they grow, in more royalty than Solomon. But contrary to this, we must look at no colours, nor make anything that is changeable colours as the hills are, nor sell them, nor wear them: but we must be all in one dress and one colour: this is a silly poor Gospel. It is more fit for us, to be covered with God's Eternal Spirit, and clothed with his Eternal Light, which leads us and guides us into righteousness. Now I have set before you life and death, and desire you to choose life, and God and his truth.

Quite in agreement with Margaret Fell, author Richard Foster has written that Christian simplicity is both a discipline and a grace, an inward attitude that results in an outward lifestyle. That passage on simplicity from Foster's Celebration of Discipline is one that many of the authors in this issue draw on, as well as passages from the gospels of Matthew and Luke, and sections of Thomas Kelly's A Testament of Devotion. In fact, though writing about experiences as diverse as clothing, friendship, rest, and work, all of our authors are in agreement that Quaker simplicity arises from our listening relationship to God, and cannot be achieved through outward judgments nor prescriptions.
Irene Jones writes about coming to the realization that the core answer to her "stuff" issue is to trust that Jesus is enough—even though that trust has led to at least one surprising car purchase.
Patricia Thomas writes that sweaters, swimming pools, and her love for illustrated books about horses were her simplicity downfall—until she learned that living life from the Center was a better form of simplicity than measuring the cost and beauty of material goods. Chip Thomas writes about how he and his wife Penny could never see themselves adopting plain dress. Then eventually found themselves dressing simply, not in agreement with a standard, not as an intellectual or rational process, but as a series of leadings to which they were faithful.
Colin Saxton writes about simplicity as the effort to make Christ the center of his life, and to make knowing God his only desire. John Moru talks about simplicity in the sense of humility, equality, meekness. Being simple in these ways, he says, has allowed him to better love all those whom he encounters. Kelly Kellum writes about the retreats he once made at the Shaker colony in Pleasant Hill, Kentucky, and how the outward simplicity he encountered in Shaker design created the inward space he needed to touch that simplicity's source. Ravens and wildflowers can fulfill that same need for a place wherein we can meet with the Creator.
Mike McCormick talks about how arranging his work day to meet the needs of his horses creates the order and consistency—the simplicity—that he needs for the care of his soul. Concordantly, Rufus Jones argues that simplicity need not lead to narrowness, but often leads to depth, spaciousness, and generosity.
In the end, all our authors would agree that simplicity is the physical and spiritual manifestation of loving God with all one's heart, soul, strength, and mind, and one's neighbor as oneself.
— Daniel J. Kasztelan, Quaker Life editor
————
Individual subscriptions in the US/Canada are $40/year, click here.
For group discounts, please call the office at 765-962-7573 or email your inquiry to info@fum.org.
---
More from this collection