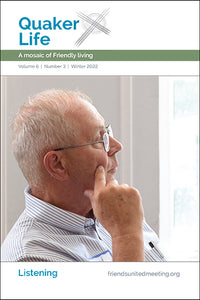 Friends United Meeting
Quaker Life, Listening, Winter 2022
Regular price
$10.00
$10.00
Purchase a single copy of the Winter 2022 issue of Quaker Life: A mosaic of Friendly living on the theme of Listening.
In 1955, Douglas Steere published a short book titled On Listening to Another, drawn from his Swarthmore Lecture of the same year. In that work, he introduces and expands on many of the same themes used by the authors of the essays included in this Listening-themed issue of Quaker Life, over sixty-five years later.
I sometimes hear the faith of Friends described as "listening spirituality." On many days, though, it is easier for me to believe that speaking is more characteristic of our spirituality than listening—given how many of my friends who are Friends possess such strong and pressing opinions. Yet the only way to explain how so many of this issue's authors convey the importance of listening in very similar words, how they use the same phrases to speak about listening as a holy task, how they come back repeatedly to the idea of listening beyond words, or listening to where words come from, how they describe in similar terms the toolset needed for holy listening—the only way to explain these things is to accept that listening truly is a common element in the practice of Quaker faith, even across the theological spectrum.

One theme that occurs repeatedly in these essays is the role of listening in the practice of compassion. A parallel theme is the idea that engaged listening, because of its role in building compassion, is a holy action—an alignment of our selves with God's love—and therefore, deep listening, whether reflexively or by intention, is a spiritual discipline in itself. Friends often remember George Fox's advice to "walk cheerfully over the world, answering that of God in every one." Most of our authors assert that it is not possible to answer that of God in another until we have first listened to the other with "the ears of God."

Some of our authors focus on how we become able to listen in this way. Holy listening requires self-discipline and humility, practice, and even specific tools: attitude, attention, and adjustment; patience, silence, presence, and appreciation; translation and acceptance; an embrace of otherness. Even sometimes, depending on what voice we hear in the silence, obedience. In all these ways, listening so that another may be heard calls both speaker and listener toward their most authentic self, toward the deepest, truest self that God is always inviting us to discover.

Finally, the deepest, most consuming listening becomes a pathway to the divine presence. Several of our authors quote the words of the Delaware chief Papunehang, as quoted in John Woolman's Journal: "I love to feel where the words come from." In deep listening, whether through silence, the wind in the willows, the spoken word, or through musical notes and harmonies, holy listening can eventually lead us to the ultimate source of both sound and silence.

— Daniel J. Kasztelan, Quaker Life editor
————
Individual subscriptions in the US/Canada are $40/year, click here.
For group discounts, please call the office at 765-962-7573 or email your inquiry to info@fum.org.
---
More from this collection