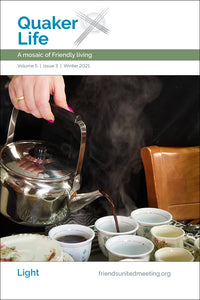 Friends United Meeting
Quaker Life, Light, Winter 2021
Regular price
$10.00
$10.00
Purchase a single copy of the Winter 2021 issue of Quaker Life: A mosaic of Friendly living on the theme of Light. 

Many people have experienced this pandemic year as a time of darkness and powerlessness. For many, fear has spread through the air we breathe—fear of a virus, fear of contagion, fear of the other. Fear about job security, fear about the mental health of the isolated elderly and of socially-distant children. Fear for the survival of all those places where people gather together—including our Meetings and churches. Many have felt real despair that life rhythms are not progressing as they usually do—and therefore, not as they should. A very few may have cursed the virus but welcomed the opportunity to spend more time at home. But to judge by newspaper editorials and conversations after Zoom meetings, darkness has been the prevailing tone.
The Scriptures have a great deal to say about light and darkness. As a number of our authors in this Quaker Life issue point out, believers are themselves meant to be sources of light, even as they are enlightened by the Light within.
Paul Anderson gives a close biblical reading of some of the "Light" passages in the New Testament. He points out that because Jesus is the Light of the world, Christ's followers are also the Light of the world. Patricia Thomas writes about two tangible and indelible experiences of Quaker and biblical truth: the ocean of Light above the ocean of darkness, and the inability of the darkness to overcome the Light.
Thomas Kelly asserts that when the Light shines within us, it is incumbent upon us to be message bearers of the Light. Michael Sherman adds that "enlightening" others is best done in relationship. He points out that light is not conditional, showing for some but not for others; that light makes no judgments and holds no requirements.
Katie Ubry-Terrell reminds us that we cannot shine our Light like the sun does—in all directions, at all times. Instead, we need clarity and direction when shining our Light, and that clarity must come from Jesus. Nikki Holland points out that we need darkness in balance with light to be creative, fertile, and compassionate.
Melissa Snyder points to the reality that our sense of Christ's Light is kept alive in many small moments that build over time. I write about my relationship to light as a photographer, and the complete dependence upon the physical manifestation of light that is intrinsic to the photographic discipline.
In his Bible study, Kelly Kellum writes about witnessing the reality of Romans 8 among Rwandan and Burundian Friends who survived the political violence in those countries. He remembers the revelatory power of his encounter with a faith that testified to and embodied the idea that God is Light—and, therefore, so are we.
Finally, Daisy Newman's intimately detailed story of an unprogrammed wedding catalogs the presence of Light in many permutations: the light streaming through windows, falling across pews, illuming one face here, one bowed head there; the light of love between a couple pledging marriage and those who have gathered to be present with them; the surprise of finding oneself used by God for ministry; the understanding and clarity with which the Presence touches the worshipers; and the quickening of grace and compassion for all those gathered, from all those gathered.
— Daniel J. Kasztelan, Quaker Life editor
————
Individual subscriptions in the US/Canada are $40/year, click here.
For group discounts, please call the office at 765-962-7573 or email your inquiry to info@fum.org.
---
More from this collection