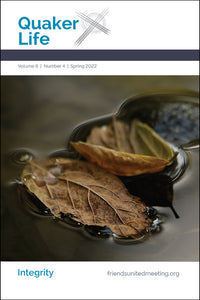 Friends United Meeting
Quaker Life, Integrity, Spring 2022
Regular price
$10.00
$10.00
Purchase a single copy of the Spring 2022 issue of Quaker Life: A mosaic of Friendly living on the theme of Integrity.
"...Perhaps the word 'integrity' comes as close as any single-word answer to 'What is Quakerism?' I claim that 'integrity' is the essential Quaker testimony and undergirds all other testimonies of Friends in relationship to Quaker faith and practice."  — Wil Cooper
Wil Cooper's claim that integrity—the insistence that there be correlation between belief and life—is of the essence of Quakerism is borne out by the witness of our authors in this edition of Quaker Life. Though they do not all define integrity as Cooper would, or all use the same point of view in describing what integrity looks like, there is nonetheless a striking amount of interweaving and consistency among these essays. That consistency arises, I believe, from the same source as the testimony itself: integrity is a natural attribute of a heart and soul and mind devoted to God.
Although Wil Cooper doesn't specifically mention the word "integrity" in the selection we've drawn from his memoir, Growing Up Plain, the hedged-in world which he portrays is one containing an insistent reckoning between externals and internals, between articulated beliefs and daily living. This reckoning became, sometimes, an uncomfortable tension, when the articulated belief of "Society" didn't meet the lived experience of some of its members—a tension that eventually propelled Cooper beyond the hedge into the hinterland of academic theological studies.
Kelly Kellum writes about his experience as an unmoored "third-culture kid," the child of missionaries, and the connection that his father eventually drew for him between identity and integrity. Yet the feeling of belonging neither here nor there ought to be familiar to all of us, he reflects. "Do we Friends practice the integrity of placing our identity as children of God ahead of our various other identities of culture and nationality?" he asks.
Ron Ferguson writes that integrity is founded upon our uncompromising love for God and the ways of God, and arises in our lives when love for God is expressed through every avenue of our being—our emotions, our thoughts, our actions. "Integrity is not perfection of performance in this life, but rather consistency of desire to honor the Lord and Truth," he writes. Because that consistency may be costly in the world, integrity also requires trusting God to meet our needs.
Karla Jay looks at three facets of integrity: our internal consistency, integrity in action, and integrity in word. In light of Friends long history as "publishers of Truth," she finds the current assault on truthful speech especially troubling.
Lloyd Stangeland reflects upon his own experience of seeking the approval of others, and his eventual understanding that seeking the approval of others could be one of the primary causes of a failure in his integrity. The same thing is true of any kind of effort to show ourselves as other than we are, he writes, such as hiding or covering up our weaknesses and sins.
Sara Beth Terrell writes about integrity not as an attribute that we achieve, but as a gift that arrives as we surrender to the forces of Love in our lives, as we allow and cooperate with the movement of the Spirit. The more we are connected to the life of the Spirit, the more aspects of our life will hold together, and the more consistent our lives will become.
John Muhanji writes specifically about the challenge of integrity to the Quaker church in Africa, where, he says, Quaker principles are often left untaught in Quaker churches, and believers are often more influenced by the society in which the church is enmeshed than by the church-centered beliefs of Friends. What the church is should become visible in what the church does. The church itself should shine a light on corrupt practices and on the corruption of church members. Does the African Quaker community believe itself to be a holy people dedicated to God? In Africa, as for the early Quakers, a commitment to peace and to truthfulness will place one at odds with the majority culture. In addition, if the Kenyan Quaker church accepts injustice in its internal life, then its claim to practice deep respect for human dignity in external relationships will not be credible.
Finally, Paul Anderson finds the origins of all the Quaker testimonies in faithful Christian living that begins and ends with Christ at the center. Our "testimonies" are witness to that Christ, and radiate outward through our lives. Integrity in speech, in all its aspects—as well as integrity in deed—arises, as do the other testimonies, from "the spiritual and unmediated reality of the risen Lord's power and presence."

— Daniel J. Kasztelan, Quaker Life editor
————
Individual subscriptions in the US/Canada are $40/year, click here.
For group discounts, please call the office at 765-962-7573 or email your inquiry to info@fum.org.
---
More from this collection