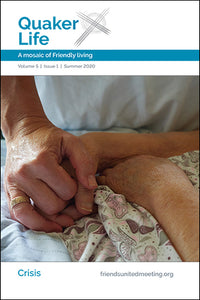 Friends United Meeting
Quaker Life, Crisis, Summer 2020
Regular price
$10.00
$10.00
Purchase a single copy of the Summer 2020 issue of Quaker Life: A mosaic of Friendly living on the theme of Crisis. Foundational to almost all of these essays is the certitude of God's presence at all times, through all things—even during anxiety and suffering. Our authors also point to the importance of faithfulness in the present even without a sense of where we are headed. They write about the role of courage during a crisis: courage achieved sometimes by grace, and sometimes by necessity. Some describe crisis as a possible impetus to new ways of seeing things, even new ways of being. And most of our authors write about the importance of spiritual exercise and spiritual discipline in persevering through the fear, exhaustion, and anxiety that crisis can bring. Authors in this issue include Stephanie Crumley-Effinger, Rebecca Hackney Godfrey, Craig Dove, Peggy Hollingsworth, Scott Wagoner, Carolyn Boggat, Emily Provance, Margaret Webb, Oscar Mmbali, Alfred Wasike, Lynn Peery Mills, Ron Ferguson, and Dan Kasztelan.
—
Individual subscriptions in the US/Canada are $40/year, click here.
For group discounts, please call the office at 765-962-7573 or email your inquiry to info@fum.org.
---
More from this collection