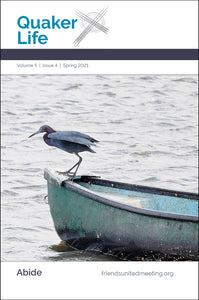 Friends United Meeting
Quaker Life, Abide, Spring 2021
Regular price
$10.00
$10.00
Purchase a single copy of the Spring 2021 issue of Quaker Life: A mosaic of Friendly living on the theme of Abide. 

This issue, our authors consider the concept of abiding in Christ, an aspect of faith that we often first encounter in John's gospel. In his Bible study, Kelly Kellum includes a word study of the Greek word meno, usually translated as abide, and of the multiple meanings and nuances of that word. Knowing that word more deeply can help us to expand our faith understanding of abide and abiding. 
Several of our authors write about the way in which abiding in Christ re-orients our responses to the human world and social order. Darlene Rushby, in hymn-like fashion, writes that we only rightly order our own concerns when we are anchored in God's presence. John Jeremiah Edminster encourages us to discipline ourselves to focus our will on abiding in the Vine Christ. As we do so, we discover the Vine Christ abiding in us, as well, and working through us, giving us the right words to say to our suffering neighbor. Emily Provance writes that a Christian response to the times we find ourselves in—a response rooted in abiding in Christ—will probably not yet show us the way out of our current predicaments, but will show us how to live faithfully within them. And Paul Anderson writes that the knowledge that Christ is at work in others as we know Christ to be at work in ourselves allows us to encounter others at a deep and authentic level—even those who are our enemies. Therefore, abiding in Christ's presence is at the heart of effective peace work and gospel witness.
Some of these essays cast light upon the ways that we can bring ourselves into God's presence to abide there. Alison Stanley writes that she learned about God's unconditional love for us from her experience of abiding in the unconditional love of a few specific people in her life. And she offers a photographic meditation on the physical places in the world which remind her—remind many of us—of God's abiding presence throughout the Creation.
George Busolo looks at the Quaker tradition, among his Kenyan countrywomen, of women covering their heads. In both the discipline and in the garment itself he sees a tool which Kenyan women use to keep themselves attentive to Christ—in worship and prayer, and in the world.
Katrina McConaughey looks at some of the frightening verses of John 15—the verses about being pruned, cast off, and burned. Through her growth as a gardener, she finds new light in these passages. Looking at God as a fellow gardener, she discovers that pruning, which can seem so angry, even unforgiving, is actually a manifestation of God's nourishment and care, of God's desire that we flourish as we were meant.
In this issue's excerpt from Friends United Press, John Punshon explains how his upbringing in an English nonconformist church prepared him, even as an unprogrammed Friend, to recognize that worship in silence is not the unique genius of Quakerism. Rather, the heart of the Quaker experience is centering the idea and reality of Christian unity through the practice of the Quaker business meeting. This is the practice which pastoral and unprogrammed Friends share, and in which their kinship lies. More to the point, the Quaker business meeting only "succeeds" when all who participate intend to seek the guidance of God. Only by intentionally waiting on the Lord, in the Lord, will we be able to experience the unity with one another that Christ has promised to his followers.
— Daniel J. Kasztelan, Quaker Life editor
————
Individual subscriptions in the US/Canada are $40/year, click here.
For group discounts, please call the office at 765-962-7573 or email your inquiry to info@fum.org.
---
More from this collection