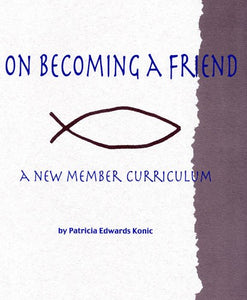 Friends United Meeting
On Becoming a Friend: A New Member Curriculum. Teacher Edition.
Regular price
$16.00
$0.00
Six lessons for youth and adults on what it means to be a Friend. Includes a brief Friends history, overview of testimonies, and individual spiritual gifts questionnaire and answer sheet. Teacher's book formatted for either 30 or 60-minute sessions or a one-day retreat. Additional question and answer sheets available.
Author: Patricia Edwards Konic
Pages: 36
Year: 1998
---
More from this collection