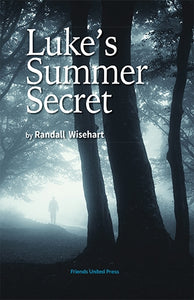 Friends United Press
Luke's Summer Secret
Regular price
$10.00
$19.50
After his parents died, Luke's aunt and uncle gave him a home. He was pretty sure his uncle didn't like him much, though. Luke thought about running away, maybe finding work on one of the boats or barges that tied up at the port of Cincinnati, his hometown and the biggest city in the West. When Levi Coffin, a storeowner in an Indiana village, asked Luke to work for him over the summer, Luke jumped at the chance to live and work with this Quaker family, who treated him with such kindness and respect. But while the Coffins lived in a quiet town, far from civilization, their home was known as the "Grand Central Station" of the Underground Railroad. Luke had to decide whether to obey his uncle, who told him to have nothing to do with breaking the law, or join in the dangerous—and most important—work of his time.
Author: Randall Wisehart
Year: 2017
Pages: 135
Paperback, ISBN: 9780913408452, $12

Hardcover, ISBN: 9780913408650, $19.50

E-book, ISBN: 9780944350836, $10.00
If you are purchasing a digital edition, within 24 hours you will receive an email containing a link to download the book.
---
More from this collection