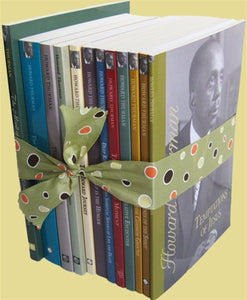 Friends United Press
Howard Thurman collection
Regular price
$150.00
Sale price
$165.50
A collection of the writings of Howard Thurman published by Friends United Press. Includes 12 titles: The Centering Moment, The Creative Encounter, Deep is the Hunger, Deep River and the Negro Spiritual Speaks of Life and Death, Disciplines of the Spirit, For the Inward Journey, The Growing Edge, The Inward Journey, The Luminous Darkness, The Mood of Christmas & Other Celebrations, The Search for Common Ground, and Temptations of Jesus.

No bookseller returns accepted.

Sold separately: 25th Anniversary Edition of Howard Thurman: The Mystic as Prophet by Luther E. Smith Jr. focusing on the spirituality of Howard Thurman. Highly recommended as a supplemental text to Thurman's own writings.
---
More from this collection