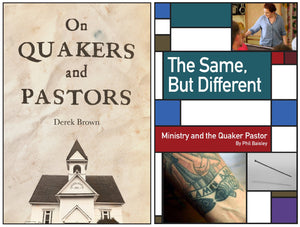 Barclay Press and Friends United Press
Pastor Appreciation 2-book set
Regular price
$36.00
Sale price
$45.00
This set of books is offered at 20% off, in appreciation of pastors:
The Same, But Different: Ministry and the Quaker Pastor
How does a religious group who originally shunned the "hireling ministry" come to regularly employ pastors and other paid staff? How does the history of this group shape the nature of its pastorate? Phil Baisley, with his history of worship among all branches of the Religious Society of Friends (Quakers), his many years of service as a Quaker pastor, his academic study of the Quaker pastorate, and his survey of many active and retired Quaker pastors, is the perfect person to answer these questions. Even better, in addition to his personal and academic knowledge on the subject, Baisley is a natural storyteller. With personal anecdotes to explain and explicate, Baisley investigates in which ways Quaker pastors are just like pastors in other denominations, and yet how the distinct, central beliefs of Quakerism have created a pastorate unlike any other, with much to teach both lay members and clergy across the Christian spectrum.
Author: Phil Baisley
Pages: 164
Year: 2018
Paperback ISBN: 9780913408698
Regular price: $20.00
On Quakers and Pastors
In this study, Derek Brown identifies patterns in Friends churches that have embraced a pastoral system, and he demonstrates how a Christ-centered Quaker pastoral theology might strengthen a church's Quaker heritage while simultaneously increasing the effectiveness of its pastoral leadership.
Author: Derek Brown
Pages: 369
Year: 2019
ISBN: 9781594980626
Regular price: $25.00
---
More from this collection