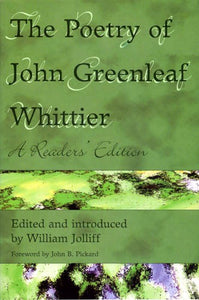 Friends United Press
The Poetry of John Greenleaf Whittier: A Reader's Edition
Regular price
$12.99
$0.00
The editor, a professor of English at George Fox University, has selected fifty-five of John Greenleaf Whittier's poems with the intention of turning Quaker (and other) readers into Whittier fans. A biographical and critical introduction are included. The author's brief introductions to the poems provide specific historical background and interpretive help.
Editor: William Jolliff
Pages: 275
Year: 2000
ISBN: 9780944350485
If you are purchasing a digital edition, within 24 hours you will receive an email containing a link to download the book.
---
More from this collection